Highlights
(Petrolytics) - All is eerily quiet in the energy space. And while natural gas prices recovered from an early week decline, both gas and crude closed within a pretty tight range. In any case, the key highlights to begin this week:
Oil & Gas Weekly Stats
WTI open: $41.26/bbl
Brent open: $43.35/bbl
Natural gas open: $1.80/Mmbtu
Crude oil refining -103 kbopd to 14.2 mmbopd (week of 7/17)
US crude oil imports +373 kbopd to 5.9 mmbopd (week of 7/17)
US commercial crude inventories + 4.9 mmbbl to 536.6 mmbbl
US active oil rigs +1 to 181
US active gas rigs 0-3 to 68
Int'l active rigs -24 to 781 (Canada is + 10 to 42; big jump)
US active frac spreads +13 to 80
Renewables Weekly Stats
Electric Power Energy Source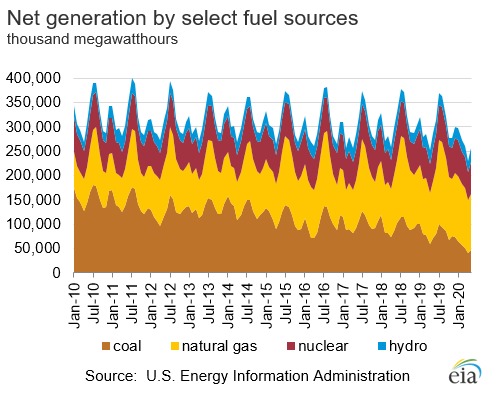 Earnings
In case you missed it, many oilfield services companies released Q2 earnings last week; including Schlumberger, Halliburton, and Baker Hughes. Similarly, a number of high-profile E&P's are set to disclose this week. Among these are:
Looking forward to the next few weeks are renewable energy earnings. These include:
While the office 10-Q filings aren't typically available for a few weeks post-earnings release, we can still glean interesting data. For example, we're interested in CARES Act benefits and layoffs. While Baker Hughes noted a $75 MM benefit, they also reported significant layoffs. This in contrast with the Halliburton and Schlumberger filings; neither of these two firms reported a benefit. Schlumberger, however, did announce a significant 21,000 jobs-cut.
Have a great Monday, and stay safe.