Highlights
(Petrolytics) - Big Oil earnings dominated the headlines last week, as a number of large firms reported Q2 results. Shell, Total, ExxonMobil, and Chevron were among the filers, and, as expected, the results were underwhelming (albeit with a few surprises). The oilfield services earnings weren't stellar either. And while a big chunk of the heavy hitters have reported, there still remain a few to watch out for, namely:
Diamondback - Today, Aug 3
BP - Tuesday, Aug 4
Oxy - Monday, Aug 10
Oil & Gas Weekly Stats
WTI open: $40.39/bbl
Brent open: $43.53/bbl
Natural gas open: $1.86/Mmbtu
Crude oil refining +389 kbopd to 14.6 mmbopd (week of 7/24)
US crude oil imports -800 kbopd to 5.1 mmbopd (week of 7/24)
US commercial crude inventories -10.6 mmbbl to 526 mmbbl
US active oil rigs -1 to 180
US active gas rigs +1 to 69
Int'l active rigs -24 to 781 (Canada +3 to 45)
US active frac spreads -4 to 76
Renewables Weekly Stats
Cobalt: $13.15/lb
Copper: $2.92/lb
Lithium carbonate: $3.29/lb
Nickel: $6.22/lb
Solar photovoltaic module: $0.21/peak watt
Uranium: $32.95/lb
Earnings
In case you missed them, we've summarized below the notable earnings from last week.
Shell - July 30
$22.3B pre-tax impairment charge ($16.8B post-tax)
$18.1B net income loss
Final investment decision (FID) conditions for Train 7 at Nigeria LNG were met - 8 mtpa of capacity to Bonny Island facility
Sold Appalachia shale gas position for $541 million closing Q3 2020
Upstream impairments mostly related to unconventional North America, offshore Brazil, Europe, and Gulf of Mexico, and Nigeria
Surprise - strong contributions from trading offset losses (+$1.5B in adjusted earnings; a +2,763% increase from Q1).
Long term price assumptions: $60/bbl Brent crude and $3.00/Mmbtu Henry Hub natural gas
Total - July 30
$8.4B net income loss
$8.1B post-tax impairment charge
2.85 Mmboepd net production (-4% from Q2 2019)
Signed external financing agreement for $14.9B related to the Mozambique LNG project
Created 50/50 JV with IndianOil to manufacture and market bitumen derivatives
Forecasts average price of ~$57/bbl Brent crude for 2020-2050 time period
ExxonMobil - July 31
Chevron - July 31
$8.3B net income loss
$1.8B post-tax impairment charge (due to commodity prices)
$3B CAPEX spend (40% below budget)
2.99 Mmboepd of net production
International upstream loss of $4.0B vs $2.1B in the US
Continues to emphasize importance of Permian basin
Like Exxon, will most likely run into significant shale under performance downward revisions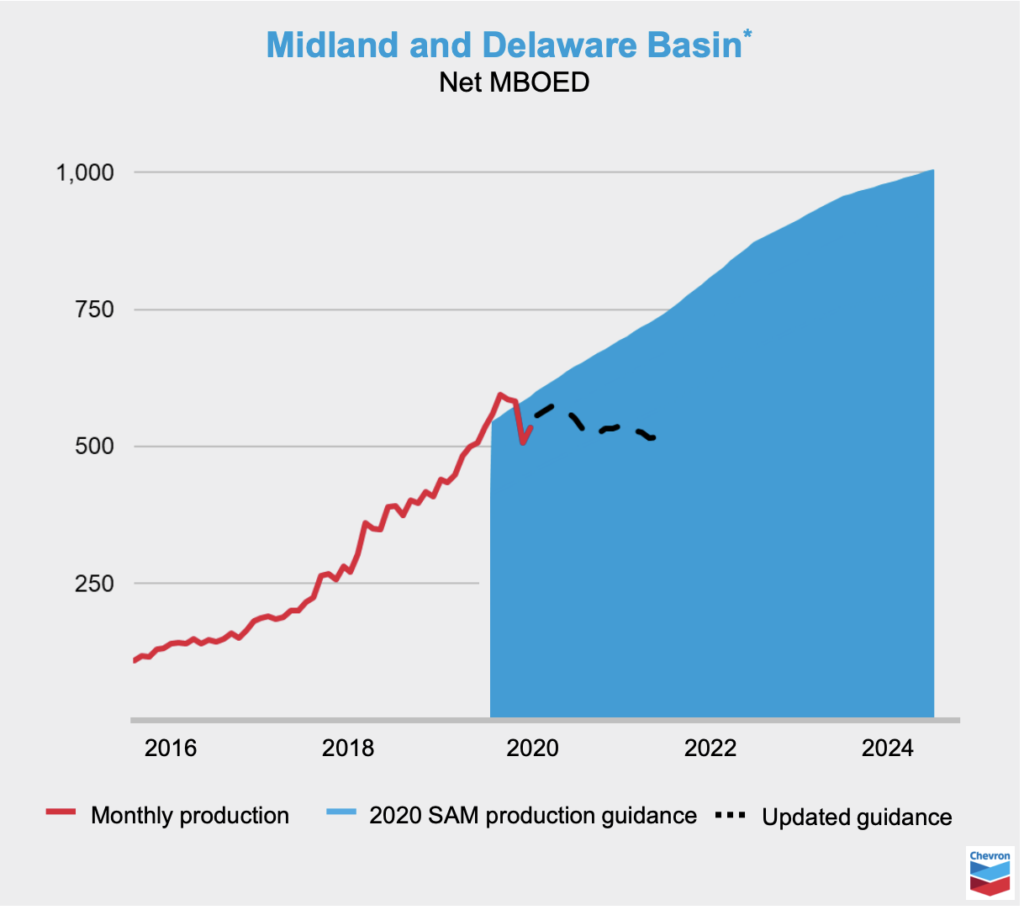 Chevron Q2 production guidance (our opinion: downward revision is less about price and more about difficulty to forecast unconventional well performance)
Conch Resources - JULY 30
$435 million net income loss
$689 million in cash from operations
$12.6B impairment charges in 1H 2020
200 kbopd net oil production (-6 kbopd from Q2 2020)
-44% reduction in CAPEX vs Q1 2020
$107 million gain in sale of Solaris Midstream Holdings, LLC
11 active rigs and 4 active frac crews (down from 18 and 7, respectively)
No outstanding debt maturities until January 2025
Hedge position covers 143 kbopd at $53/bbl WTI and 28 kopd at $49/bbl Brent
Renewables - week of aug 3
Looking forward to this week are key renewable energy firm Q2 earnings. Again, we're looking to glean any information from the management discussion notes. While financials are obviously interesting, the tone and subtleties of the MD&A is even more insightful. Among the key firms reporting this week are:
NextEra posted Q2 earnings last week. We commented on this release on Twitter. In summary, the earnings appeared strong - with surprisingly minimal stated impact due to the pandemic. Most companies are blaming any and all bad news on COVID, however, NextEra's mention of it was noticeably absent (take that for what you will).
---
Other thoughts
Before we cut you loose for the week, we wanted to share with you an observation from Total's Q2 earnings (although the observation is not unique to them). We've noticed an increasing emphasis put on oil price forecasting. More specifically, Total's 30-year average Brent crude price forecast of ~$57/bbl (2020-2050) has gained wide-spread attention.
The conclusion many analysts on Twitter seem to take-away is "oil price is expected to be lower forever".
The is a blatantly misleading conclusion.
In fact, we believe that not only is this wrong, but it is an intentional misrepresentation. Total's forecast is, at the very least, meaningless, and at the very most, deceitful. Obviously, no one knows the future, however, touting averages without any sort of deviation metric (variance, volatility, confidence), is what we, in industry, like to say is derived from the AE file. That is, the forecast was "anally-extracted" (i.e. made-up).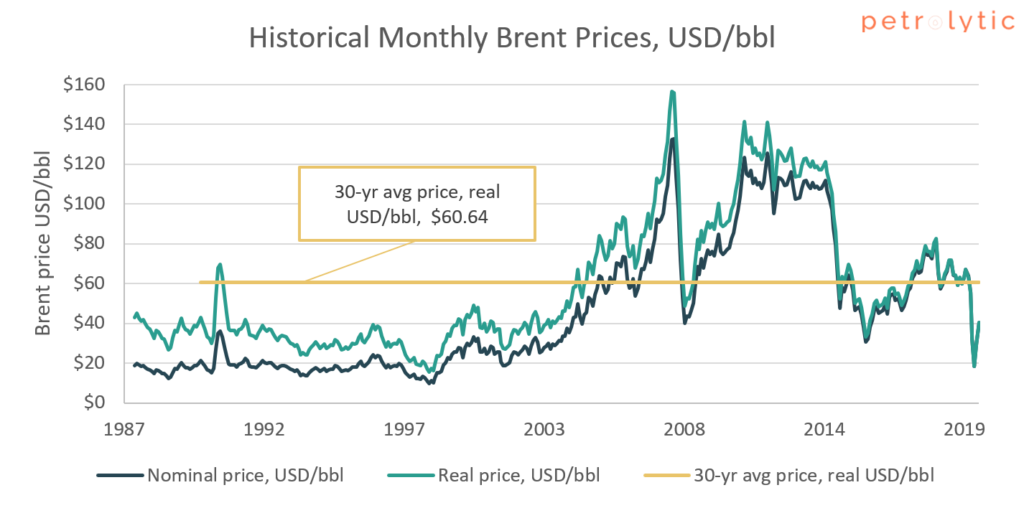 Take a look at the historical prices of Brent crude from 1990-2020. Would you deem the past 30-years as "lower forever"? The average price is not much different than what Total is forecasting, however, there's a story to be told in the volatility (namely, the shale boom for one).
We're not claiming to know what the future holds or what the oil price will be in 30 years (let alone 1 week), however, the variance in price is what dictates the industry. Empires were created and destroyed in the 1990-2020 period. The same is possible in the next period (whether that's in oil, natural gas, or solar).
We'll leave you with a question to ponder:
Would you walk across a river that is on average 2 feet deep? Variance matters!