(Petrolytics) - A few highlights from last Friday:
WTI inched up 2% last week to close at $38.66. Trading opened lower last night roughly 1.7% at $37.82
Natural gas closed slightly higher to end the week at $1.45/mmbtu, but opened last night at $1.57/mmbtu
US rig count was down 1 rig to 265 (we were at 967 this time last year)
The EIA released a sobering report regarding LNG exports. Appears that US liquified natural gas exports have declined by >50% so far this year. Reasons for such a decline are obvious - a mild winter and COVID-19 mitigation efforts. the short-term forecast indicates a rebound beginning in Q3 2020, with a return in Q1 2021 to export levels similar to that experienced in 2019.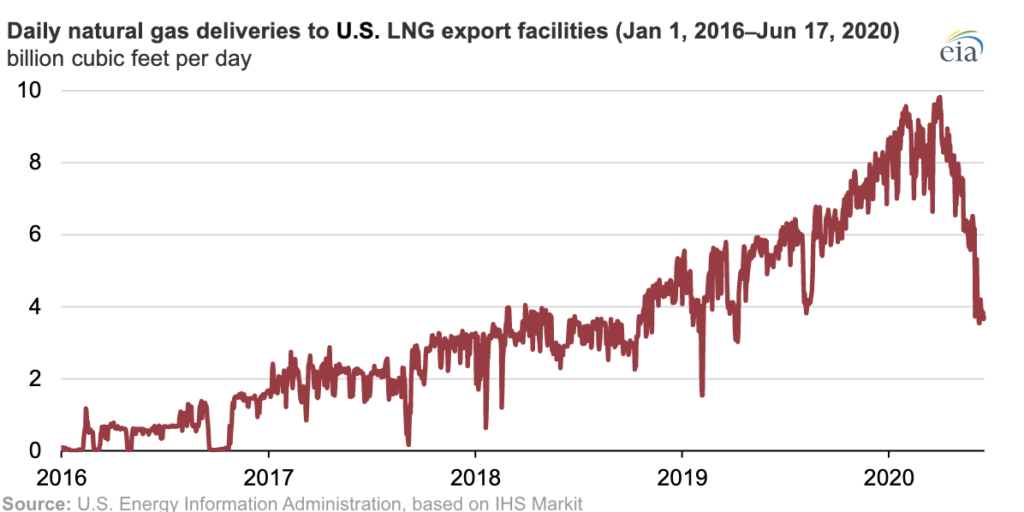 A few stories to get you started this morning. Chesapeake has finally filed for bankruptcy. This has been a long-time coming. We really feel for their workforce. Hope the impact is minimal. Doubt they're the last big name to feel the heat from the current environment.
Chesapeake filed for Ch. 11 - not unexpected
Interesting incubator expanding to Houston - keep an eye on this; could be a cool development for the city
Appears that the COVID-induced demand coma will indeed continue (as expected). What is uncertain is the energy mix post-COVID. This could be a pivotal moment for natural gas, or some other sort of alternative fuel. We'll keep you updated along the way.