Highlights
(Petrolytic) - Last week ended the bulk of Q2 2020 earnings for the energy sector (although Oxy reports today). Renewable firms demonstrated relative resilience, while oil and gas operators suffered staggering losses. And although the** Big Oil financials** were abysmal, unlike oilfield services earnings the results were at least surprising.
We'll provide a quick summary of a few firms in the sections below.
---
Oil & Gas Weekly Stats
WTI open: $41.50/bbl
Brent open: $44.66/bbl
Natural gas open: $2.26/Mmbtu
Crude oil refining +42 kbopd to 14.6 mmbopd (week of 7/31)
US crude oil imports +900 kbopd to 6 mmbopd (week of 7/31)
US commercial crude inventories -7.4 mmbbl to 518.6 mmbbl(week of 7/31)
US active oil rigs -4 to 176
US active gas rigs remained steady at 69
Int'l active rigs -38 to 743 (Canada +2 to 47)
US active frac spreads -6 to 70
ExxonMobil suspends employee retirement plan contributions (Surprise! This wasn't included in the Q2 press release or 10-Q.)
Renewables Weekly Stats
Cobalt: $15.01/lb
Copper: $2.92/lb
Lithium carbonate: $3.29/lb
Nickel: $6.50/lb
Solar photovoltaic module: $0.21/peak watt
Uranium: $32.95/lb
---
Earnings
In case you missed them, we've summarized below the notable earnings from last week.
Diamondback - Aug 3
Net loss of $2.4B
$2.5B in impairment charges
Trialing 25% recycled water fracs
Drilled 8,150' lateral in 24 hrs with new rotary steerable tech (Permian Basin record)
Flaring down to 0.3% of net production
Drilled 58 horizontal wells (15 put-online)
Anticipates 5-6 active drilling rigs and 3-4 frac spreads for 2H 2020
Illustrated frustration with various accounting methods used across industry - slide included below: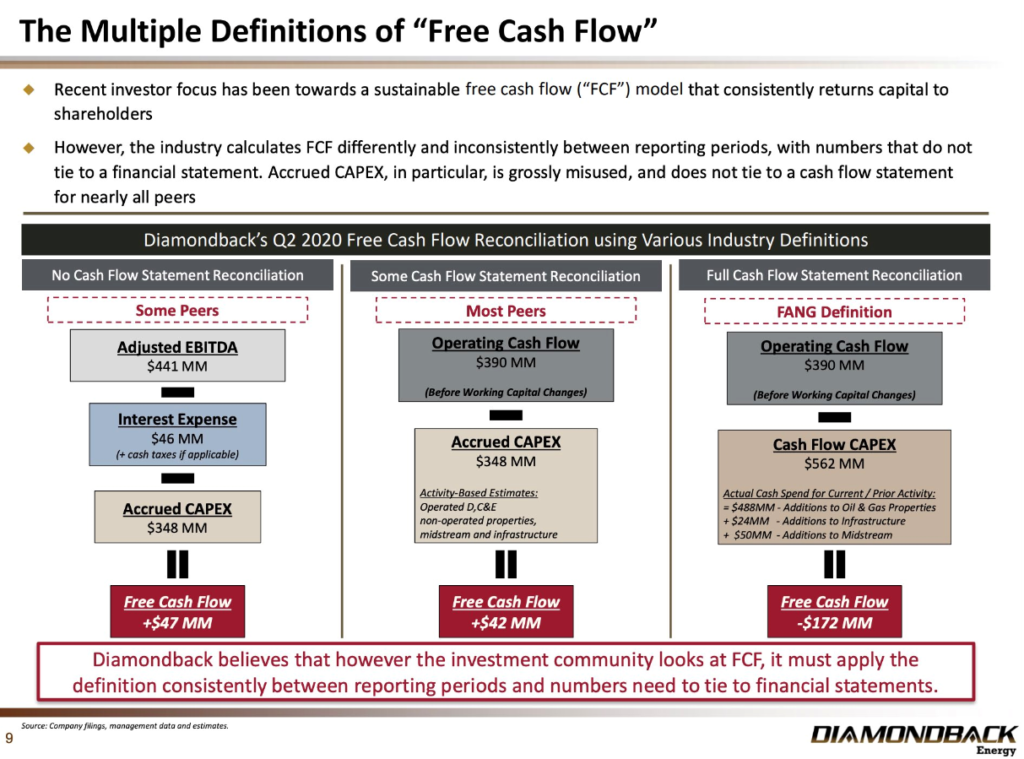 EOG - Aug 6
Net loss of $909 million
$305 million in impairment charges ($1.8B YTD)
Economically shut-in production of 73,000 bopd during Q2
Anticipates 25,000 bopd will remain shut-in
Deferred initial production from most new wells to June
500 BCF net natural gas discovered in shallow water Trinidad
$3B reduction in revised 2020 capital budget to $3.5B
10 net wells POL in Q2 2020 vs 500 net wells planned in 2020
BP - Aug 4
It's no surprise that integrated oil companies have been slowly pivoting to become integrated energy companies for decades. This issues, in our opinion, with BP is their gross mismanagement of oil and gas investments. How can they convince us that they'll be responsible stewards with renewables when they haven't demonstrated the same with oil and gas (when this is supposedly their forte)?
BP has some of the largest volumes of proved reserves. Eliminating these reserves by reducing production and eliminating exploration sets them up for M&A in the future. We commend them for the ambitious plan, but the skeptic in us says they're leaning on ESG to mask their poor performance (i.e. a distraction and illusion).
SunPower Corp
First Solar, Inc
Brookfield Renewable Partners
Net income of $11 million
Hydro funds from operations -15% (-$33 million) to $193 million in Q2; mostly due to lower generation in the US
Wind funds from operations +23% (+$9 million) to $48 million due to cost reduction and refinancing
Solar funds from operations +37% (+$10 million) to $37 million due to contributions from acquisitions and sales
$85 net million proceeds YTD in "recycling activities" (marginal/mature projects divested)
Agreed to $130 million net equity investment in 1,200 MW solar development in Brazil
---
Hope everyone enjoys their week. Follow us on Twitter for daily insights. We'll be back next week with another concise, but comprehensive weekly update.